References available from several Grand Prix and Gold Medal riders!
We do a variety of training and offer many packages to suit our clients' needs. We offer on site training only.
If your horse knows the basics, sometimes it is still a great idea to have a trainer sharpen your horse's skills. Maybe you have a particular skill or problem you would like your partner to work on? Does your horse need to become more supple or become more consistent in the bridle? We can help!
Training Fees & Pricing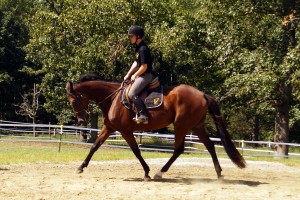 • 30 days training: $1000, board included
• We feed quality feed and hay
• Programs offered for individual basis
• Private and group 4 board paddock turn out
• Large matted stalls with fans
• Hot/cold wash rack
• Separate boarder tack room
• Lighted arena
• Close to trails
• Owner lives on premises
• Night checks
• Enclosed round pen
• Kitchen/office/powderoom
• Covered viewing area
We also offer blanketing, fly mask, bell boot and sunscreen application.
We do NOT offer pasture or partial board!